Becoming a certified Humane Hero means you've sacrificed to perform
meaningful work to rescue animals in need. Here are just a few of their stories.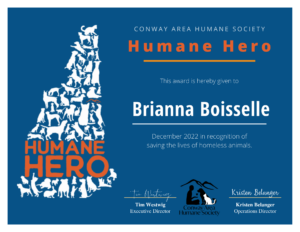 Bri joined CAHS as an Adoption Counselor and has remained a dedicated volunteer. Bri runs her very own rescue sanctuary for senior dogs. She has fostered, adopted, and rehabilitated several dogs and cats for the Conway Area Humane Society. Her life saving efforts make a huge impact for dogs with special needs.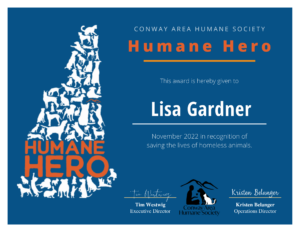 Lisa Gardner is a long time supporter and animal advocate. She always finds creative ways to support the Conway Area Humane Society. Lisa donates to our mission and rescues animals in need. One of her most memorable contributions to our annual auction has been the opportunity to name a character in her novel! This gift always brings a lot of excitement and competition to the live auction!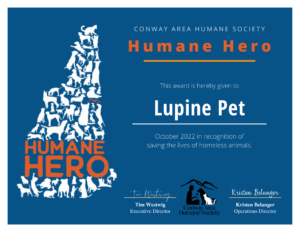 Scott, Val, and Dave are strong supporters of the Conway Area Humane Society. Lupine Pet is a local company that creates collars, leads, and harnesses for dogs and cats. They regularly donate to our animals in need. Lupine is a major donor, sponsor, and supporter. Our dogs wear their Martingale collars with pride!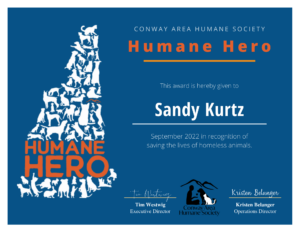 Adopter, Fundraiser, and former Board Member, Sandy Kurtz, set out to raise more funds than ever before during his Trails for Tails participation! Sandy set his highest goal yet at $5,000 this past spring and raised $5,056 leading up to the in-person portion of Trails for Tails. Every year, Sandy works hard to exceed his fundraising goal. We are proud to award him with the the Humane Hero Certificate for September 2022 along with the 1st Place fundraising prize package!
All of the funds raised will go directly towards furthering our mission and saving animals in need.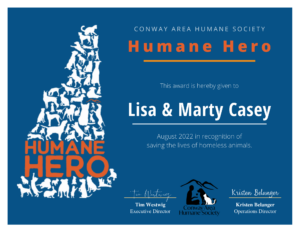 Lisa, Marty and their beloved son Josh, have adopted two rescue dogs, Sassy & Mugen, from CAHS over the years. Josh had a passion for animals and his parents wanted to celebrate his birthday while making a difference for more dogs and cats in need. 
Lisa and Marty opened Leavitt Bay Café with Josh before he passed away at the beginning of 2022. To honor his life and celebrate his birthday, they held a BBQ fundraiser and donated 100% of the proceeds to CAHS. They sold burgers and hot dogs all weekend long and raised $3,400! 
It is amazing to see people like Lisa and Marty turn the tragedy of the loss of their son into this wonderful event to help save animals' lives at their local shelter. It was an honor to hear stories about Josh and how their local community of friends came to their support then they needed it most.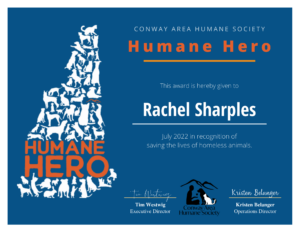 If you've noticed an improvement in our adoptable pet photos, then you've seen Rachel's hard work and skill! Rachel joined CAHS as a volunteer in 2021. Not only does she donate her talent and time but she is clearly dedicated to making a difference. Rachel started as a weekly dog walker and offered to take photos of available animals to help them find homes. Rachel has become an important part of the Event Committee as well. She attends every event and always snaps the best candid photos. Her event pictures are often featured in the local newspaper, including the front page! Rachel provides regular enrichment for our homeless dogs while giving us the perfect promotional material to get our animals adopted.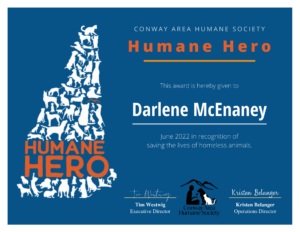 Darlene currently sits on the Conway Area Humane Society's Board of Directors as our Board Secretary but her involvement doesn't end there. Darlene is an active member of the Event Committee and plays a vital role in planning and executing our major fundraisers. She runs our Canister Program and is responsible for collecting over $7,000 annually, from canisters throughout the community. Darlene often steps in to assist with animals transports and often donates directly from our high priority shelter wishlist!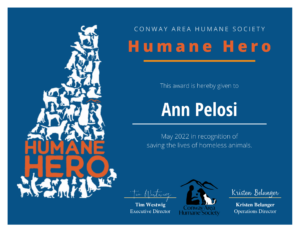 Long time volunteer, shelter Vet Tech, and former employee, Ann Pelosi, is a well deserving recipient of this month's Humane Hero Award. Ann has been dedicated to the shelter throughout many operational shifts. Ann currently works closely with our Veterinarian and Medical lead as a volunteer on a weekly basis. She assists with exams, vaccinations, spays/neuters, and health certificates. Her dedication and knowledge makes it possible to care for and adopt out over 700 animals every year!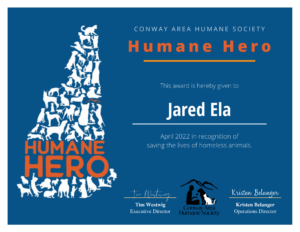 Jared Ela, AKA Chef Jared, raised $6,000 during the Valley Food Fight! The Food Fight is a fundraiser where 6-8 chefs cook in a "Chopped" style competition to win $1,000 for a local non-profit. Jared entered on behalf of the Conway Area Humane Society. The theme was Breakfast for Dinner and he created a three course meal that was loved by every judge. In the weeks leading up to the fundraiser, Jared collected donation pledges for his commitment to CAHS. Though he did not win the competition, he raised the most money and made a huge impact for his local, life saving shelter!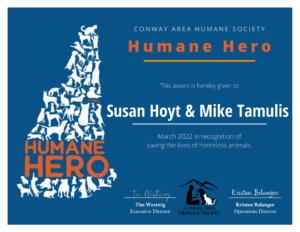 Susan Hoyt joined CAHS as a volunteer dog walker. She comes in on a regular basis to spend time with our adoptable dogs. Susan has also worked hard to improve our landscaping and flower gardens as well as the look and feel of our facility. 
Mike Tamulis has spent many hours completing various paint projects for CAHS. Whether it's the exterior building, lobby walls, volunteer room, or donated dog houses, he always finds the perfect shade of paint.
Mike and Susan recently worked together to give our adoption center a new look. With paint, supplies, and lunch in tow, they worked on our lobby, foyer, and adoption office to bring a brighter and lighter feel for our animals and adopters.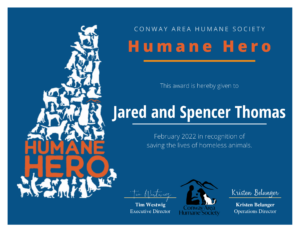 Jared and Spencer spent two days assembling 20 Kuranda Beds! These pet beds create a raised space within the kennels so the dogs have a dry and comfortable place to rest. Comfort is vital to the health and wellness of our animals. Kuranda brand beds are designed by PVC or Aluminum frames with a heavy duty vinyl center. Overtime, our residents take a toll on the beds and they need to be replaced. We received over 20 donated beds from supporters in our community but the beds still needed to be assembled and our staff just did not have the time. Jared and Spencer quickly put every bed together while our staff focused on animal care.  Needless to say, all of our dogs are resting comfortably!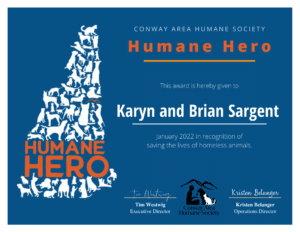 Karyn and Brian joined CAHS as emergency fosters in the fall of 2021. They took in a large mastiff mix named Biggie who came to us when her owner lost housing. Biggie did not do well in the shelter setting but thrived with her foster family. They took her in and brought her back for every vet exam. After she was spayed, they brought her home and never looked back! Biggie lives with her mastiff sister, Fern, and goes on the best adventures. She also gets to go to work with her Karyn! Biggie will live out her days lounging on the couch in her mom's office at Pet Rendezvous!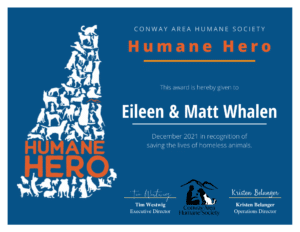 This story starts in October of 2021 when Eileen filled out a volunteer application to spend her spare time giving back to the animals of CAHS. Eileen began in the cat room and quickly fell in love with our long term dog residents. She spends her volunteer shifts cleaning, feeding, and caring for cats and critters then moves on to dog walking. Soon after her first volunteer shift, several friends and family members of Eileen's were submitting applications to volunteer as well. Eileen and her husband Matt donated $500 to Glenna's heartworm treatment which matched Glenna's previous medical care gift. They also spent Christmas morning walking every dog at the shelter. Eileen quickly became an important and impactful member of the CAHS community and truly connects with every animal she meets, especially those who are overlooked.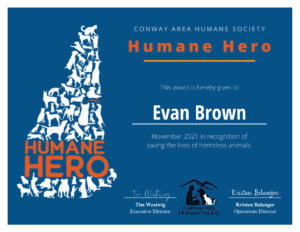 Long time dog resident, Glenna, recently tested positive for Heartworm. If untreated, Heartworm is fatal. We scheduled a vet appointment and began treatment as soon as possible. Treatment can take 3-5 months and results aren't seen until 9-12 months afterwards. Heartworm treatment is costly and consists of several medications and 3 injections to kill the worms overtime without causing severe complications in the heart and lungs. 
Enter Evan Brown! Evan came in shortly after we announced Glenna's diagnosis and donated $500 to her medical fund! Glenna has been moved to a quiet and cozy room in the admin building while we continue to treat her and search for a foster family. Staff members are taking turns fostering her and/or medicating her afterhours. Glenna needed a hero and we needed the funds to save her life! None of this would be possible if it wasn't for Evan's generosity!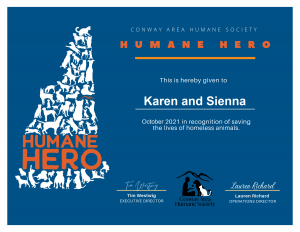 We would like to recognize Karen and CAHS Alumni, Sienna, as the Humane Heroes for October! Over the summer, Karen nominated CAHS for a $2,500 grant and we won! She submitted the following story: "I had lost three cats within one year; one to Cancer; 6 months later, another had a tumor, and one month later my other passed, as she was stressed about losing the other two and developed that 'disease' where she built up fluid. All older and adopted. Later we took in Rocky, a kitten that was left out in the middle of the woods with his mother and sibling in which loggers found them and we found homes for the other two. I wanted to get Rocky a companion. I went to our local shelter with the intention of adopting a kitten. However, there she was, Sienna, a beautiful older Tortie cat nearby, quiet and watching me. I spent time at the shelter with the kitten I had originally wanted, but then kept looking at Sienna & did feel guilty for one thing, as it seems everyone wants kittens and not older cats. So, I took her out in the room to spend time with her. She seemed so gentle and sweet. The shelter had named her Karen, so I guess it was meant to be seeing my name is Karen as well and I took her home. I did change her name to Sienna after, due to her colors. She and Rocky got along so good – she was so mellow, and she took him under her wing acting like his mom. Perhaps she knew what a scary time he must have had when dumped in the woods for his family to fend for themselves. I was so happy to have Sienna- never had I had such a sweet loving cat like her. You could do anything with her and she wouldn't put up a fuss. She would make it a point to tap our arm and meow and then jump up into our lap to rest. Then perhaps from a prior owner, she would lay down on her side when we pointed a finger at her-unusual and we gave her treats when she did it, making.it a good thing. Later we adopted a Tortie kitten & Sienna was like a mother to Moca-Bean – they were inseparable. You would see them laying beside each other (or Moca-Bean on top of Sienna) in a chair & Sienna would lick her. She stuck up for Moca-Bean, as Rocky became a bit jealous and tried to pick on the kitten at times, and she would swat him.  Rocky now, has no teeth due to his age and is mellowing down; Moca-Bean at her age, is very loving, learning from Sienna; we also have Charmin who in her old age, is still mischievous like a kitten. Conway shelter does a LOT for the surrounding areas regarding strays/abused animals/companion animals. They have a lot of programs, one of them being taking care of their senior cats and trying to match them up as companions for the elderly. Such a great cause!  Their facility is very neat & clean & they have playrooms for all the cats to enjoy.  They have functions to raise money for the shelter, along with a well-informed newsletter, relaying news and information of adoptions/sheltered animals and events upcoming.  We live in a small town 1 1/2 hours away and our town is known for many strays. Conway shelter were the only ones that would try to take in our many animals  that needed attention and care, no matter what their age.  Therefore, I really think they would deserve this mention and we will go back there to adopt an older cat and older dog in the future, as they deserve to live out the rest of their life in a loving home!" Please join us in thanking Karen for all she's done for CAHS and her cats!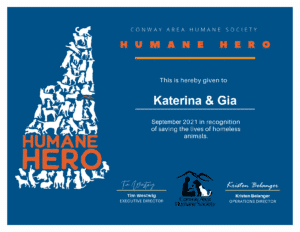 This month, we had our annual Trails for Tails fundraiser! Katerina and Gia worked together to raise over $2,000! Wow!! These two young ladies are great examples of the youth in our community caring about our animals! Katerina and Gia are both 12 years old and entering the 7th grade. The girls have helped the shelter raise money in the past at multiple fundraisers including Tuxes and Tails as well as Paddy O'Paws and Jordan's Way (with Kat throwing a pie in her dad's face). Both love animals of all kinds and want to help animals in the shelter find homes and in any other way they can. They accepted donation pledges and took their dogs (Thor, a 6 year old black lab and Fonzo, a 4 year old cockapoo) for a hike with their parents to help the cause. Katerina is the daughter of our board member Craig Bartolomei.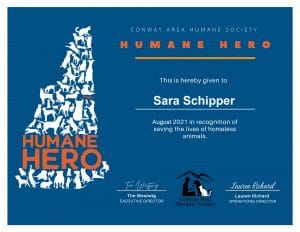 Dr. Sara Shipper is this month's Humane Hero for her amazing work she did for the shelter during the pandemic. As many of you know during the pandemic there was a dramatic increase in the number of adoptions that took place at shelters in general, and we were no exception. There were months when we did double what normal amounts had been in the past. This meant a huge workload for Dr Shipper who stepped up and got all these animals ready for adoption. Dr. Shipper was doing this work on her one day off from her regular job! We could not have made it through this time without her help. We are very grateful for her efforts! Please help us thank her for being this month's Humane Hero!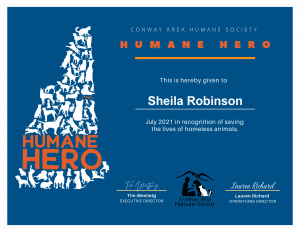 Long time volunteer, donor, and animal advocate, Sheila Robinson is our Humane Hero for July!  Sheila comes in, week after week, to take care of our cats, kittens, and small critters! She has been involved with CAHS and committed to animals longer than any volunteer or staff member. Sheila continues to show up, rain or shine, to give our kitties the best care possible! She also fundraises for Trails for Tails, attends and donates to our events, as well as adopts and spoils some very lucky cats!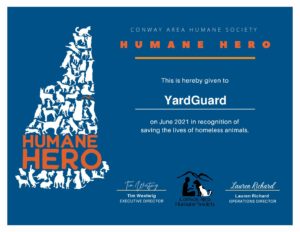 Our June Humane Hero award goes to Bill and Erica of YardGuard. Spring of 2021 started off like every other year for us at CAHS. Our staff and volunteers were eager to get the dogs outside for longer adventures. Much like the rest of the valley, we were infested with ticks. Not only were we coming in covered with ticks like the dogs, the dog park members were too! 
Enter YardGuard! Erica came to assess and quote the shelter property then returned with Bill to spray their all natural, pet safe product. They have offered to treat the entire dog park and surrounding shelter area for the rest of the season, for free! A $2,000 value! 
We now have peace of mind when walking the dogs and feel comfortable taking them out any day, all day! If you or someone you know if experiencing a tick issue, contact YardGuard here!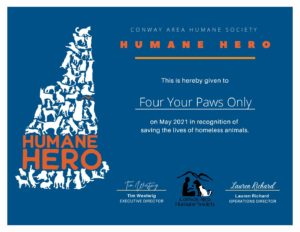 Our May Humane Hero award goes to Kathy and Brian Ahearn, and all their staff, at For Your Paws Only. If you live in the Mount Washington Valley and own a pet, you are surely familiar with this local institution. Going on their 27th year of business, this family owned pet store has a long history of helping shelter animals.
You might be familiar with FYPO's in-store Pet Bakery or their popular Doggy Playgroups. What you might not be aware of is how much FYPO has helped homeless pets through the years. Kathy was a founding Board Member of Conway Area Humane Society. Both Kathy and Brian were present for the ground breaking ceremony of our shelter! Through the years, Kathy has continued to serve on CAHS fundraising and events committees. Their work in creating our formerly named Bark in the Park event is significant. Last fall, FYPO helped coordinate and contribute to a large wholesale purchase of pet food to donate to local pet owners in need during the pandemic. Their store is now helping lead our May Pet Food Drive, encouraging visitors to purchase gift cards that will help us stock the CAHS Pet Food Pantry for pet owners in need.
Brian and Kathy's service to animals in need transcends shelter walls. They recently received national training to become a local Disaster Animal Response Team. This training came from Brian's involvement with homeless animals following Hurricane Katrina. Brian worked with the Red Cross to rescue, relocate and often reunite displaced pets following this horrific tragedy down south. They will now assume the role of first responders in the event of an emergency in Mount Washington Valley. Their store will be called upon to help create temporary shelters for animals, reach out to community partners and provide emergency care.
Brian and Kathy are truly community leaders to all pets in the Valley. Visit their store at 1821 White Mountain Highway in North Conway to see their dedication in action and support a business that has been helping animals since day one.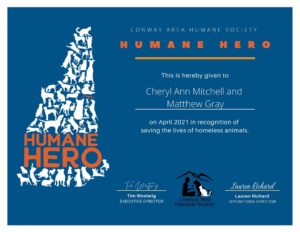 Our second honorary Humane Hero of the Month award goes to volunteers Cheryl Ann Mitchell and Matthew Gray. 
If you adopted an animal recently from Conway Area Humane Society, you might want to take a moment to thank Cheryl Ann and Matt for bringing this furry friend into your life. This unbelievable duo transports out-of-area animals to our shelter. The most amazing part is that they do all of this lifesaving work as unpaid volunteers.
CAHS rescues animals that have no other means for survival. Did you realize that 70% of our rescues come from outside of the Mount Washington Valley community? Such animals come from a variety of circumstances – they are strays, surrenders, abuse or neglect cases, victims or natural disasters, rescues from high-kill shelters, and more. Cheryl Ann and her brother Matt have unfailingly traveled to pick up all of these amazing animal friends. Although you may have never met this team, you can absolutely thank them for growing pet-loving families in our community. 
With an average of five trips a month, this Humane Hero duo voluntarily drive across the country to rescue cats and dogs in need.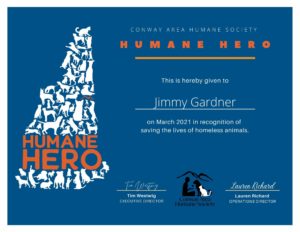 On March 1st, eleven nominees were announced for the annual Mount Washington Valley Mr. Pageant. Each nominee competed at a virtual live event later in the month. Before this date, they fundraised for a nonprofit of their choice. Within a few short days, Jimmy Gardner's fundraising page for the Conway Area Humane Society had twice as many donations than any other pageant nominee. By the end of his donation period, Jimmy raised over $8,000 for animals in need.
Jimmy's decision to support our shelter was an immediate one. "Animals teach us how to be best friends," he states. Gardner has befriended many adopted shelter animals through the years. The difference these animals have made in the lives of Valley residents is incredible to him. A resident of Conway since the age of five, Jimmy appreciates how our community pulls together during hard times, and sees CAHS as a great example of that mindset. He appreciates our dedicated staff and the support we lend to both animals and pet owners in times of need.
An institution himself, Gardner has worked at North Conway's Moat Mountain Smokehouse and Brewery since the day it opened over two decades ago. He has watched Moat transform through the years, gaining customer momentum and adopting new seating areas over time. As Moat's General Manager, he is excited to lead their 21st year celebration this summer. He has seen our community's love for Moat grow, and he is proud and honored to be at the center of it all. We are honored to have an incredibly dedicated community member like Jimmy in our corner, supporting the important work we do.